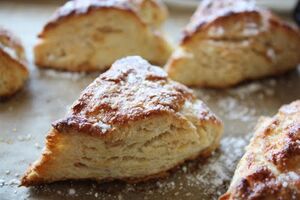 Prep Time: 10 minutes
Cook Time: 20 minutes
Yields: 8 servings
Description
IngredientOoo3 1/2 cups brown or white rice flour
5 teaspoons baking powder
1/2 teaspoon salt
3/4 cup butter
1 cup milk
1 egg
1/3 cup agave nectar
1 tablespoon lemon zest
1 tablespoon lemon juice, or more to taste
1 cup diced candied ginger
Directions
1. Preheat oven to 375 degrees. Lightly grease a baking sheet.
2. In a large mixing bowl, whisk together the flour, baking powder, and salt.
3. Cut the butter into the flour mixture with a knife or pastry blender until the mixture resembles coarse crumbs.
4. Whisk together the egg, milk, agave nectar, lemon zest, lemon juice, and ginger in a separate bowl. Stir ingredients into the flour mixture until moistened.
5. Spread the dough out onto a lightly floured surface and knead briefly, for five or six turns. Pat or roll the dough out into a ½-inch-thick round. Cut dough into 8 wedge-shaped pieces and place onto the baking sheet.
6. Bake scones in the preheated oven for 20 minutes or until they are golden brown.
7. Serve.