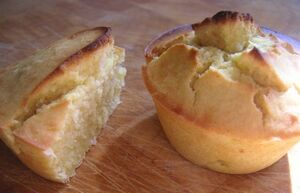 Prep Time: 15 minutes
Cook Time: 20 minutes
Yields: 12 muffins
Description Edit
RICE FLOUR MUFFINS
Ingredients Edit
1 c. rice flour (main ingredients)
2 tsp. baking powder
Pinch of salt
1/2 cup rolled rice flakes
1/4 cup olive oil
1 jar baby carrots plus water to equal 1 cup
2 eggs
1/4 cup pistachio nuts ground
1/2 cup mashed cooked sweet potato
Directions Edit
1. Combine all dry ingredients in one bowl. Mix wet ingredients in another bowl.
2. Lightly oil and flour a 12-hole muffin tin.
3. Preheat oven to 425 degrees.
4. Mix contents of two bowls together and spoon muffin mix into the muffin tins. Place tins in oven and bake for 20 minutes.
5. Allow muffins to cool 5–10 minutes before serving.