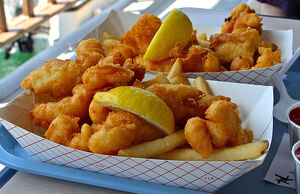 Prep Time: 15 minutes
Cook Time: 8 minutes
Yields: 6-8 servings (depending on the size of the fillets)
Description
Just because you're gluten-free doesn't mean you have to miss out on all the fun! Crispy and savory, this fried fish will make you question why you ever used regular flour in the first place!
Ingredients
2 lbs fish fillet (any white fish, but cod is more authentic)
1 cup rice flour
2 tsp baking powder
1 teaspoon salt
¼ teaspoon paprika
¼ teaspoon garlic powder
½ teaspoon dill weed
¾ cup Bard's Tale beer
2 eggs
Directions
Gently rinse the fish in cold water. Pat fillets dry with paper towel (note: if you have large fillets, cut the fish into smaller pieces).
Mix dry ingredients in a large bowl. Mix beer and eggs separately and stir in dry ingredients. Blend ingredients until mixture is smooth.
Place fish fillets in batter mixture, making sure to coat the fillets evenly on both sides.
Heat oil to 350°F. Gently place small batches of fish in oil so that the oil's temperature does not drop. Fry fillets for 5–8 minutes, or until they are golden brown on both sides. Be sure to turn the fillets frequently to prevent scorching the batter.
Remove fish to paper towels to drain excess oil.
Serve with hot fries.