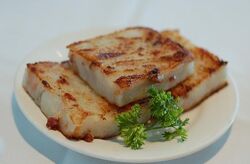 Description
[
]
This recipe is handed down from my mom's mom. This is NOT a dessert (not sweet), but more like a 'quick bread' for the Chinese. This 'cake' is usually made and eaten during the Chinese New Year or its slices are usually found all year round among the DIM-SUMs in the Chinese restaurants. You can chill it in the fridge, but it should always be eaten HOT after re-heating either in the microwave, or frying in a few tablespoons of oil. This cake can be kept for 1 week in the fridge (but usually it's finished within a day!!)" Original recipe yield: 6 to 8 servings.
Ingredients
[
]
Directions
[
]
Boil 2 tablespoons of oil in a wok.
Add mushrooms, sausages, shrimp, ginger, turnips, 5 spice powder, salt, chicken bouillon, and pepper, cook for 5 minutes
Cover turnips in rice flour, cook for approx 45 minutes on low heat.