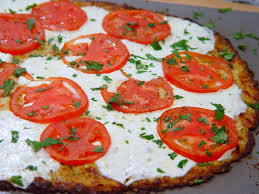 This cauliflower crust pizza recipe is tasty and perfect for gluten-free eaters. It tastes just like pizza, if not better! Give it a shot.
Ingredients
Edit
1 tsp grapeseed oil
1 head cauliflower, blanched
2 small eggs, lightly beaten
½ cup mozzarella cheese, shredded finely
1 tsp dried basil
1 tsp dried oregano
1 tsp garlic powder
Directions
Edit
Preheat the oven to 350 degrees Fahrenheit.
Lightly coat a baking sheet with the grapeseed oil.
Blend the cauliflower until coarse. Pour into a large bowl, add the eggs, mozzarella, basil, oregano, and garlic.
Pat the cauliflower mixture into a large pizza crust shape on the prepared baking sheet, about ½-inch thick.
Insert the sheet into the oven and bake for 10 minutes, or until lightly browned. Top with desired toppings and insert back into the oven at 400 degrees Fahrenheit for 10 to 15 minutes, or until browned.
Community content is available under
CC-BY-SA
unless otherwise noted.